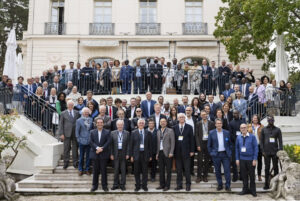 The Autumn International Seminar and the first Rencontres Stratégiques that took place in Paris and at the Trianon Palace in Versailles created a whirlwind of activity that kept the Business Science Institute team busy throughout the month of October.
Videos and photos of these events are now becoming available. This month was also particularly intense with seminars in Frankfurt, Shanghai, Bangkok and above all a follow-up seminar which involved 11 professors and 24 doctoral managers.
Finally, this month also saw the launch of the first online session of the DBA in Sustainable Innovation Management created in partnership with ICN Business School.
The first seminar was jointly run by Professors Elisabeth Paulet (ICN) and Michel Kalika. The scheduled sessions take place from 1 to 3:30 p.m. in order to accommodate the different time zones of the six doctoral student managers registered (from South Africa, USA, China, Luxembourg, France and Switzerland).
These new DBA students, from the construction, IT, education, transport and automotive sectors, work in HRM, marketing, project management, finance and communication. This is a great intake of students whose theses will focus on sustainable management issues.
Michel Kalika
President of Business Science Institute