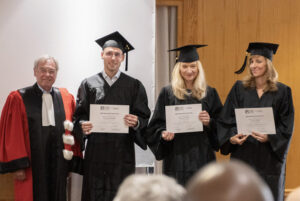 At the end of the graduation ceremony held on 1 October, the managerial impact prize was awarded jointly to 3 new DBA graduates by Professor Jean-Pierre Helfer, President of the Academic Council of the Business Science Institute.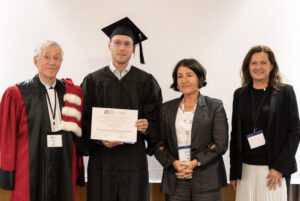 Raphael Bolsinger (Online DBA German Language no. 1) for his thesis "Private Equity as a succession option for small and medium-sized enterprises" supervised by Prof. Birgit Hagen, University of Pavia.
Business succession is a major challenge for small and medium-sized enterprises (SMEs). According to a study by the Kreditanstalt für Wiederaufbau (KFW), 900,000 SMEs have been or will be directly affected by this challenge between 2019 and 2027.
This research examines an external business succession with the involvement of private equity (exit buyout).
Surprisingly, not all SMEs are aware of private equity and its activities. Furthermore, for many entrepreneurs, private equity is not considered as a succession option, the reasons for which can be attributed to the fact that there are a number of gaps in the literature.
This research examines the question of how managers and entrepreneurs can prepare their company for a primary buyout through private equity in a business succession.
Based on this work, a strategic process was identified as supporting a successful takeover. This can be explained by the need to carefully analyse the aspirations and objectives of shareholders.
In general, it was found that participants have limited flexibility during the process. This is all the more significant when one considers that succession planning is usually a one-off event in the life of the entrepreneur. In order to protect and support entrepreneurs and all other participants in the process, such as managers and investment funds, the results were transferred into a conceptual framework. This conceptual framework was completed with managerial recommendations.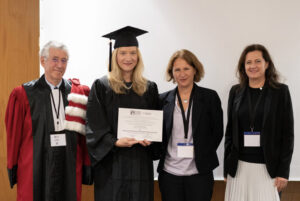 Barbara Ofstad (Frankfurt n°2) for her thesis "Boundary spanning in digital transformation: A mixed-method single case study about learning in a vocational education and training department" supervised by Professor Anne Bartel-Radic, University of Grenoble Alpes.
The empirical case of the vocational education and training (VET) department of a German multinational company in the context of digital transformation explores how and why boundary crossing in VET can help bridge the old world of VET and the so-called world of 'new work'.
A vocational education and training department – sometimes the little sister of a corporate training department – operates at the bottom of the talent development ladder and usually deals with tertiary vocational education. VET is seen as a cornerstone of the German education system and a guarantor of "Made in Germany" standards and a skilled workforce. For a period of two to four years, apprentices and work-study trainees are employed by a company and acquire skills in a training centre that they cannot develop during their practical periods on the shop floor, in a department or in a vocational school. A vocational training department runs these training centres and offers an interesting mix of staff consisting of veterans of vocational training, people with a teaching background and newcomers from companies, all of whom are genuinely committed to learning and teaching.
Recent developments in technical apprenticeships in Germany have added digital skills to the training programmes of vocational schools and companies. As vocational education and training evolves, VET trainers need to acquire new skills, including digital skills, in order to adopt new approaches to VET and a new mindset regarding the philosophy of VET. These digital skills of trainers are often company-specific. Intra-organisational boundaries – i.e., borders – can hamper the effective exchange of know-how and learning. Through a phenomenon called boundary spanning, these boundaries can be overcome.
As this thesis shows, an inclination to boundary spanning, as well as trainers' interpersonal skills, leadership and confidence, contribute significantly to social learning. Inclination is defined here as the attitude of the individual trainer who believes that more outreach is needed between training centres, regions and internal clients in order to improve the quality of training and to disseminate information, innovative learning methods and to improve the technical skills of trainers. This research also provides empirical evidence that the inclination to cross boundaries correlates significantly with open learning configurations and cases of usage.
Leaders should serve as role models for learning and bridging teams, while striving to create an atmosphere of openness and trust. Qualitatively, they should also provide time and space for learning. These are relevant findings for a practitioner; academically, this thesis contributes to broadening the academic notion of bridging beyond bridging from one company to another company or beyond bridging from one corporate entity to another: bridging can also occur within an entity to enhance learning.
This thesis extends the academic notion of boundary opening beyond opening up from one company to another or from one entity to another: opening up can also take place within an entity to enhance learning and improve future operational readiness.
As an additional scientific contribution, this research adds a definition of the inclination to cross borders to the existing corpus of research.
Understanding how VET teams learn to bridge the skills gap, cope with anxieties and adopt a new culture in the context of digital transformation is an interesting case to observe and draw practical conclusions from; it can also serve as an example for the learning challenges in digital transformation of other companies or teams, such as factory workers or technical service personnel.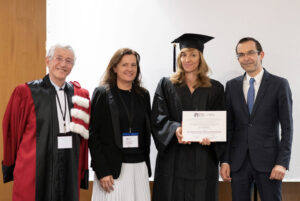 Céline Cheval-Calvel (Geneva n°6) for her thesis "Perceptions and effects of responsible purchasing approaches in an upstream supply chain. The case of Swiss watch and jewellery companies and their suppliers" supervised by Professor Olivier Lavastre, Grenoble IAE.
The Swiss watch and jewellery sector, like many sectors before it, is undergoing a Copernican revolution, which is pushing companies towards greater transparency in the sourcing of rare materials, such as gold and precious stones. For less than a decade, this segment has tended to integrate responsible, societal and environmental approaches in response to sustainable development (SD). While the terms corporate social responsibility (CSR) and sustainable development have become commonplace, their understanding within watch and jewellery companies diverges and varies in its application. This study analyses, at the heart of upstream supply chains, how they adapt to the managerial infusions of their executive committee in terms of CSR and how they disseminate CSR approaches within their ecosystem of watch and jewellery suppliers.
The research builds on the foundation of neo-institutional theory (DiMaggio and Powell, 1983) and the effects of mimetic isomorphism in the luxury watch sector as well as the translation of Brunsonn's (1985) organisational hypocrisy into commercial hypocrisy. These theories are completed by the concepts of "Purchasing Social Responsibility" of Carter and Jennings (2002; 2004) and on the way in which purchasing managers get involved in the responsible management of their supply chain by spreading their responsible purchasing approaches in a "messianic" way (Quairel, 2007).
Through interviews with buyers and suppliers in the same dyad, the effects of these approaches on their relationship and performance are analysed. The study builds on their methodologies and their everyday practices in the field of responsible purchasing. The aim is to demonstrate that supplier commitment is strengthened through these approaches. As SD and CSR are still poorly understood concepts, the aim is to provide sector players, such as purchasing managers and upstream supply chain managers, with a clearer understanding of these concepts. Finally, using a cross-section of buyers and suppliers, the research highlights each party's perception of the deployment of responsible purchasing approaches.