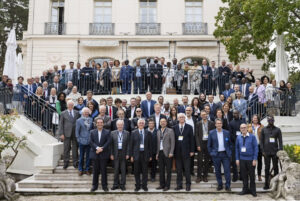 Managerial impact is part of the DNA of Executive DBA theses, and this is what distinguishes them from traditional PhDs.
Since its creation, Business Science Institute has never stopped emphasising this key difference and continues to highlight the value of the results of the research carried out by its 140 Doctors of Business Administration.
Whether through the book Managers Creating Knowledge, published by EMS in 2015, the numerous publications resulting from the theses of Executive DBAs, articles, forums or interviews, the managerial impact generated by the research of Business Science Institute's Doctors continues to gain recognition.
The French Association for Human Resources Management (AGRH) has recently inaugurated a new AGRH-DBA thesis prize and it is with great pride that we have learned that this prize has been awarded to one of our Alumni Laurence Leung Tack, Doctor of Business Administration, Geneva cohort n°5, who defended her DBA thesis "Managing the aftermath of managerial burnout : Analysis of the logics of inter-hierarchical support and the contributions of mindfulness" in 2022 under the supervision of Professor Marc Valax.
We congratulate her on this recognition which confirms, if it were necessary, the interest of our programme for leaders and managers who wish to take their practice to the next level!
Michel Kalika
President of Business Science Institute