Since last month's June 2022 Newsletter, Caroline and Stephen have been continuing their new-found vocations as journalists, interviewing alumni located across the planet from their place of work, and on more than one occasion from their secret holiday destinations (our lips will remain firmly sealed). Each DBA journey is unique, meaning we are able to add new dimensions to the notion of impact after each discussion. The transcription phase has now started, and thanks to Professor Olivier Lavastre we have been testing the SONIX software solution, a fully automated transcription service driven by advanced technology. So far, the promise of a 'fast, accurate and affordable' solution has been kept, and we would fully recommend it to our academic community.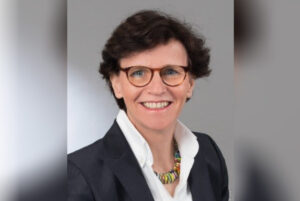 Better equipped in my role as a consultant
Martine has already been interviewed recently by Professor Jean-Philippe Denis, during which she likened her DBA journey to the ascension of a 4K mountain.
During our interview, Martine covered a range of different forms of impact, but mainly concentrated on the positive role the DBA programme has had on her practice, which is not surprising since she runs the consultancy firm with her husband, Thierry Lamarque (Paris n°1 2016-2019), whose own DBA journey had been a great source of personal stimulation for her.
In terms of her practice, she sees the DBA as a differentiating factor within the consultancy ecosystem, since a consultant with a doctoral qualification necessarily stands out from the crowd. She and Thierry had already written two books together in 2013 and 2018 prior to Martine starting her DBA, their philosophy being that when you work in consultancy, writing is a source of credibility and legitimacy and helps you structure your ideas. However, Martine insists upon the extra impact of writing a DBA thesis, which she believes is much more demanding in terms of writing, and the production of knowledge, even though her thesis was on her area of consulting expertise. The idea was to make her thesis an understandable and didactic piece of research on a complex and technical subject.
"I explored the concepts and theories that I use with my clients, buyers and sellers when there is an investment fund in the ecosystem. This in-depth knowledge of investment funds means that I can exercise my consultancy function more effectively".
An impact on communication and reputation
According to Martine, the DBA has also had a positive impact in terms of communication, encouraging her and Thierry to create ALTHEO LAB to promote their research and publications. She adds that there has also been an impact on reputation with regard to the title of Doctor of Business Administration. Martine has recently become a conference speaker at the APM, a network of business leaders which has more than 8,000 members in France and around the world.
"I've been speaking as an expert for a few months on the subject of the external growth of companies and the relationship with investment funds, and my expertise covers the topic of relations with investment funds, which I explored in my DBA thesis".
When asked if she thought that holding the Business Science Institute qualification had had an influence in her being selected as an APM speaker she replied:
"Absolutely, because the APM is extremely selective in its choice of experts. They have very high standards. The other experts who applied at the same time as me were also Doctors and had already published. So yes, it was undoubtedly very useful in the APM's recruitment process".
Martine also insisted on the 'killer combination' of the DBA, in other words practitioner expertise combined with academic legitimacy. Many of the business leaders she encounters are indeed intrigued by the DBA, especially by the fact that a seasoned expert would take the time and effort to pursue a doctoral qualification. At the same time, this creates a link and a topic of conversation, which is always helpful in her line of business.
A source of reassurance in the business relationship
In a similar vein, but from a more personal perspective, Martine says that the DBA also builds self- confidence and believes the way others look at you is not quite the same. As such it is "a source of reassurance in the business relationship".
Negative impacts of the DBA – the need for a recovery period
In all of the 33 interviews now carried out since May, we have encouraged the Business Science Institute doctors to also express themselves freely about what we call the 'negative impacts' of the DBA.
In Martine's case, in view of her previous writing experience and having been able to observe her husband Thierry undertaking the doctoral research process, she was able to complete her DBA more quickly than many other students. However, as with the vast majority of candidates, pursuing doctoral studies and a busy professional career at the same time is very intense, and left her feeling physically exhausted upon graduation in 2021. She feels the need for a recovery period before embarking on any post-DBA projects and to refocus on her work after multi-tasking so intensively for nearly 3 years!
"At some point you need to refocus and be able to do things more calmly instead of being on the brink all the time. But a leopard never changes its spots, and I have just started a new project …".
Congratulations Martine on your DBA! We hope you'll be able to build back up your energy reserves as soon as possible and look forward to hearing about the next exciting episode of the ALTHEO family adventure!