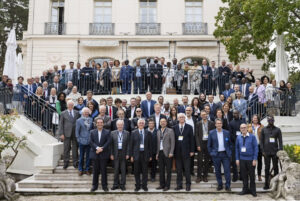 I am very pleased to be writing this foreword in light of the rich news concerning Business Science Institute and its members presented in this April 2023 edition of our monthly newsletter.
Firstly, the 30 videos shot by the Business Science Institute's faculty members during the international seminar at the Trianon Palace in Versailles on 1 October  2022 are now all available online. The series is impressive!
Secondly, the month of March ended with our 2nd spring seminar. The event took place at a distance on 30 and 31 March, in the presence of 24 faculty members and 4 DBA graduates participating in the examination panels. On the programme: 3 conferences in French and English on the topics of academic integrity and artificial intelligence which attracted, for the first time, as many professors as doctoral students; 9 doctoral students presented their Certificate of Research in Business Administration and 4 doctoral students defended their thesis, which brings the number of Doctors in Business Administration at Business Science Institute to 137.
Finally, the FNEGE's certification board, which works to distinguish publications that are grounded in and make a contribution to the field of management research, has certified eight publications written or co-authored by members of the Business Science Institute's faculty in 2023, including the book written in French and English and co-edited by Professors Françoise Chevalier, L. Martin Cloutier and Nathalie Mitev, La recherche qualitative. Témoignage dans les sciences de gestion (Qualitative Research: Voices from the Management Sciences), published by EMS, in the Business Science Institute collection.
Congratulations to all of you for your contributions to impact!
Michel Kalika
President of Business Science Institute