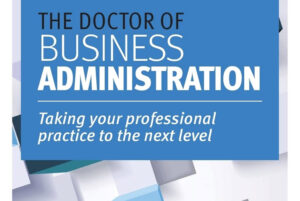 Read the books written by Business Science Institute faculty members and alumni, in particular among the latest publications "The Doctor in Business Administration. Taking your professional practice to the next level", edited by Michel Kalika, President and Founder of Business Science Institute & Stephen Platt, Quality Assurance and Accreditations Manager at Business Science Institute.
This book has been written by professors and managers working in internationally accredited DBAs run by leading higher education institutions on three continents.
It aims to explain why this development will happen, and why more and more managers will decide to pursue what is a rather special and unique doctoral programme.
It also aims to answer many of the questions that future DBA students are likely to ask about a DBA programme and its impact.
Presentation
Why is the DBA a response to market expectations?