In July's Newsletter, Caroline and Stephen presented the details of their Alumni Impact Interview with Dr. Martine Story from ALTHEO who gave us some great insights into how the DBA had impacted her work as a consultant, in particular concerning communication and reputation. Over the summer, your intrepid journalists have been busy transcribing the initial round of 33 interviews with 426 pages and 161,187 words of text! Naturally, Caroline blames Stephen for being too talkative…
In the Autumn, the interviews will start again, the objective being to get appointments with as many graduates as possible, including our 15 brand new October Doctors (congratulations by the way), who are now fully fledged members of our 134-strong alumni community.
In this edition, you'll be able to learn about our interview with Masialeti Masialeti (Digital DBA 2), who is Head of Information Technology at Nevada Copper Corp in the USA. Masialeti is hugely enthusiastic about Business Science Institute, and always willing to contribute to our work to promote the DBA. He recently took part in a Panel discussion at the EDBAC Conference in Mexico on the topic of 'Alumni Impact' along with Professor Kalika and Stephen, which led to some very thought-provoking discussions with DBA students, professors and managers from around the world. Thank you for your support, Masialeti!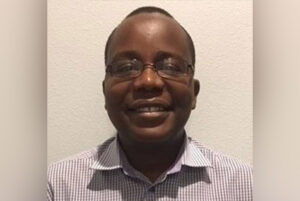 Recognized as high potential
Masialeti started our exchange by describing the process he went through to start his DBA journey. Whilst working in Zambia for his previous employer, Barrick Gold Corporation, he was identified as high potential and placed on a programme to support his professional development. Upon completing his Masters programme, he started to look into pursuing a professional doctoral programme, but was then offered the opportunity to move to the USA as Global IT Manager. Once he had settled into his new life he started to look around for a suitable programme.
"I was looking for a school that would both accommodate my aspirations to do doctoral work, work with expats in the field and at the same time do work that is inclined to support the objectives of the organization. Essentially being of value as an internal consultant and solving real world problems using the tools acquired from academia and being rigorous in the way I approached these challenges".
Dealing with the right institution
Masialeti spent some time looking into DBAs in the USA, but found their approach purely academic. Whilst exploring the web sites of institutions in Europe, he saw that a number of reputable professors were working with Business Science Institute, which sparked his interest. He was also impressed by the AMBA accreditation and quality of our academic partnerships, so got in touch with the support team. The rest is history!
"The way the DBA is handled at Business Science Institute, if you do a programme like that in the U.S. with the same quality of professors, you are talking of not anything less than 75 or $80,000 minimum costs. So, the programmes in the U.S. were cost prohibitive and they did not have the type of professors who are well researched and published like at Business Science Institute. The other interesting thing was that the application and registration process was very agile. The response was very fast, you know, Catherine and the team they are very fast in responding and providing feedback. And I think if you are working in a corporate environment where you are used to people responding like this and you want answers quickly so that you make a decision, I think that kind of just made my mind up, I was like, 'I'm dealing with the right institution'."
Masialeti certainly did his homework on the programme, checking with graduates and looking at their profiles. The feeling he got was that Business Science Institute developed a certain village or community identity where people mattered and continued to interact with each other and the institution once they had graduated.
In terms of professional impact, he felt this was very important, since it is always easy to connect with faculty to talk about issues at work and benefit from their expert advice, for example.
A supportive community
Balancing work with DBA studies is not always an easy task, and if students are to successfully navigate their journey from manager to manager-researcher and advance their practice, they need to receive support at personal, professional and academic levels. Maiselati felt he was very lucky in getting all three of these, and was especially grateful to the Business Science Institute professors who provided him with instant feedback on his research project, which meant he was able to immediately put into action in practice what he was learning on the DBA.
"I had an opportunity to actually move to the specific mine site where we were doing the digital transformation, and be involved daily in terms of the actual work and be able to make a lot of changes based on the feedback I was getting from my professors… there are some projects where we reduced hundreds of thousands of dollars in costs because of just a different approach. And, you know, it's because of those conversations (with my professors)".
A DBA toolbox
During our conversation with Masialeti, he insisted frequently on the integrative nature of the programme and how his new understanding and skills as a manager-researcher were transforming his practice through what he calls "tools to be successful".
"I saw myself growing as an individual in terms of the way I looked at things, my problem-solving skills, my agility in terms of the way I approached specific situations. It was so helpful in terms of my productivity".
He also talked about his evolving role and posture as a manager, and the transformational nature of this on his team. Indeed, one of the underlying themes that have come out of the Alumni Impact Interviews is the indirect impact of the DBA on others, and Masialeti was no exception! He talked about his role as a "servant leader" to help his staff be successful in their everyday work.
A golden match and a game changer
One of the key impacts of a DBA comes from the sustained and intensive relationship between students and their thesis supervisors, and Professor Kalika takes great pride in continuing to run a successful academic marriage agency in this respect! Masialeti confirmed the importance of this, for example in terms of writing skills, self-discipline and focus:
"I was matched quickly (with Professor Lebraty), and when I was matched with him, it was like a game changer, like, I gained focus, we had great alignment, I had the right papers to read and I started making some massive progress in terms of my work".
Masialeti was even able to generate impact beyond his own employer, receiving an offer to join a new mining company where he reports directly to the CEO and is able to put into practice a second time around the findings from his DBA thesis saying, "this has elevated me".
Adopting diversity as a strength
Masialeti talked candidly about a very personal impact of the DBA on how he is now perceived by others. As in many countries, in some parts of the USA people still have difficulties working with people who look different from them, focusing more on the colour of their skin rather than the content of their mind. He finds that the DBA has provided him with the resilience to be prepared for this:
"It gave me enough tools to enable me to surprise people in terms of the impact that can be there, and enables people in a short period of time to start looking beyond the colour of your skin, to start looking at the content that you have and the value that you can add, you know, with strong character and integrity, they feel comfortable that you can be part of them in a sense".
Other than growing as an individual, he also believes that his colleagues are excited to have a doctor on the leadership team, helping them drive transformation forward. He has been really encouraged by the recognition given to him as a DBA graduate by the CEO in his company.
Inspiring others
For any of or readers who have had the good fortune to meet Masialeti, you will know what an enthusiastic and altruistic personality he is. So, no surprise that his DBA journey has proven to be an inspiration to others. Masialeti's wife (a former teacher) has also decided to start a DBA on our new programme in Sustainable Innovation Management with ICN BS. Indeed, one of the things we learned form our conversation is how the USA is now looking at the DBA as an option for academic careers. Whereas the Tenure Track used to be the preserve of PhD graduates, there is an increasing realisation of the value that a DBA graduate with solid business experience can bring to a faculty team. 'Pivoting' from business to academia is emerging as a real trend and it seems that the DBA will play a key role in this in North America.
So, thank you Masialeti for this very informative and highly enjoyable conversation. We also learned at the end of our discussion that you are also giving back from a societal perspective, becoming the strategic advisor for the executive team of a non-profit organisation connected that supports Zambians locating to and living in the US and Canada.
Well done! We are proud of you and your work.